Phnom Penh, Cambodia, 01 October 2021 – Prudential Cambodia announced a fund-raising drive to support Kantha Bopha Hospital's charitable work to treat children free of charge. 80 percent of the children hospital's patients have a household income of less than $1 a day.
"Run/Walk with Prudential" is a collaboration between Prudential Cambodia and KKRC Running Club with the support from ACLEDA Bank, Wing's Bank, and Skechers. Under this initiative, for every 1km ran/walked from 1-31 October 2021, Prudential will donate 1000riel (USD 0.25) to Kantha Bopha Hospital. The event is open for all ages.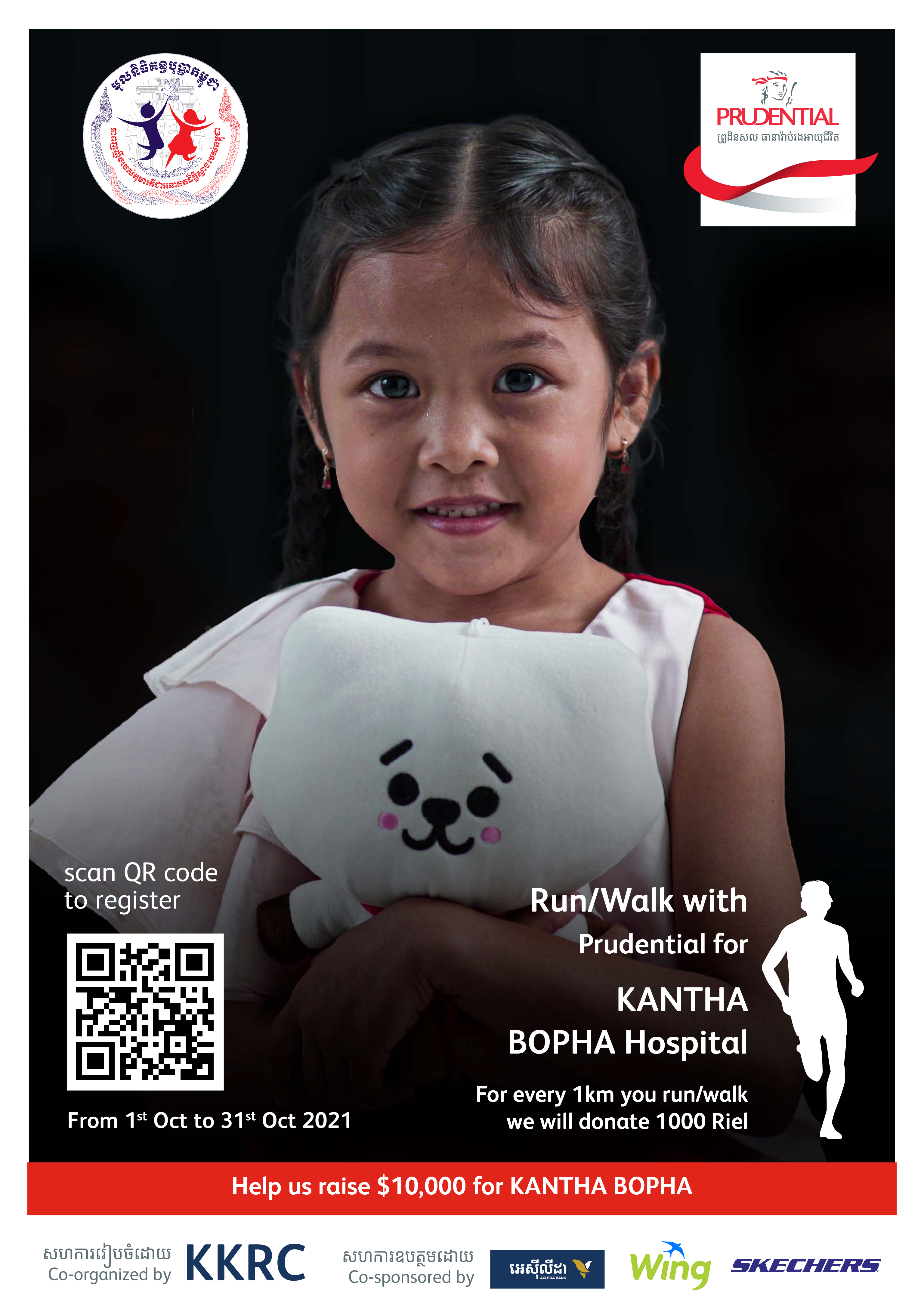 "As a responsible insurer, supporting the communities we work in has been a critical focus of our operations. Additionally, with this fund-raising drive, we want to spread awareness on the importance of an active lifestyle to combat the rise of lifestyle diseases. "Run/Walk with Prudential for Kantha Bopha" will allow participants to improve their health and the Kantha Bopha hospital to continue the critical work they do for Cambodia through the funds that are raised", said Mr. Sanjay Chakrabarty, Chief Executive Officer of Prudential Cambodia.
"We are happy to be able to promote this charitable initiative and look forward to getting our staff and customers aware of this initiative" said Mr Neth Piseth, Senior Vice President, Financial Services Division from ACLEDA Bank.
"Wing Bank is delighted to participate in this exciting charity event that will support the financial needs of Kantha Bopha Hospital. Kantha Bopha Hospital has provided free medical care to those children most in need, and without discrimination," said Mr. Han Peng Kwang, CEO of Wing Bank (Cambodia) Plc. "When you run with Prudential today supported by Wing Bank and others, you are contributing to the crucial operations of Kantha Bopha hospital".
"At KKRC Running club we promote health and fitness for self. We are excited to collaborate with Prudential on this initiative as it not only benefits the runner/walker but also Cambodian society", said Mr Kim Kok, President of KKRC.
To join, participants must join the Strava Club called Run-Walk with Prudential and log their walks/runs on the app between 1-31 October 2021. The club can be accessed via the link https://bit.ly/3zQv7ms
About Prudential Cambodia Life Assurance
Prudential (Cambodia) Life Assurance PLC (Prudential Cambodia) began operations in January 2013. By providing tailored life insurance solutions to individuals and families and conducting insurance seminars for the public, Prudential Cambodia helps Cambodians protect and secure their financial futures. Prudential Cambodia is a wholly owned subsidiary of Prudential plc*.
Prudential plc provides life and health insurance and asset management, with a focus on Asia and Africa. The business helps people get the most out of life, by making healthcare affordable and accessible and by promoting financial inclusion. Prudential protects people's wealth, helps them grow their assets, and empowers them to save for their goals. The business has more than 17 million life customers in Asia and Africa and is listed on stock exchanges in London, Hong Kong, Singapore and New York.
Prudential plc is not affiliated in any manner with Prudential Financial, Inc., a company whose principal place of business is in the United States of America or with The Prudential Assurance Company Limited, a subsidiary of M&G plc, a company incorporated in the United Kingdom.