Newsroom
Prudential Cambodia Promotes School Safety With Safety School Programme in Steung Treng Province
STEUNG TRENG – Students in the Thalaboriwat district are better prepared for and have a higher chance of surviving natural disasters as Prudential Cambodia and Plan International Cambodia continue their collaboration to protect students and teachers in the Kingdom against the impact of natural disasters through the Safe School programme.
On 20 March, a team of Prudential Cambodia employees and Financial Consultants, together with representatives from Plan International, participated in a Safe School volunteering event in the Steung Treng Province.
At the event, students from the Anlong Svay Kor and O'Trel primary schools demonstrated safety skills, such as the storm evacuation procedures, and learnt how to differentiate among various natural disasters. More than 70 primary teachers and 25 district training and monitoring team members were also equipped with the knowledge on how to support and assist students during school hazards and evacuation procedures.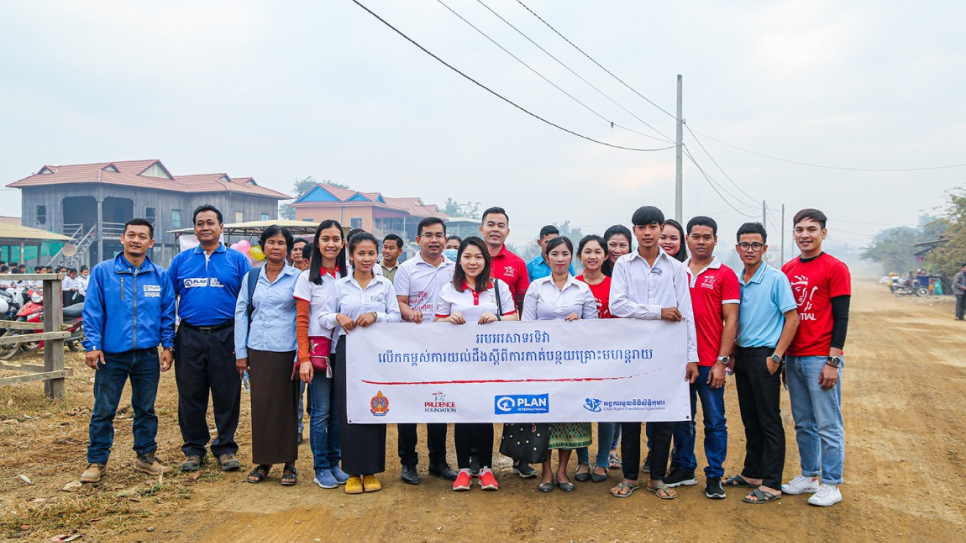 Safe Schools is a region-wide disaster risk reduction capacity building programme supported by Prudence Foundation, the community investment arm of Prudential in Asia, since 2013. The Foundation and Prudential Cambodia began the partnership with Plan Cambodia in 2016. Safe Schools is centered around a globally recognised framework focused on three pillars: Safe Learning Facilities, School Disaster Management, and Risk Reduction and Resilience Education. The programme aims to equip students, teachers and local communities with vital knowledge and skills on how to survive natural disasters.
Mr. David Nutman, CEO of Prudential Cambodia, said the programme reflects Prudential's continued efforts to protect and build safer and more resilient communities across Cambodia.
"It is critical to have safety guidelines for teachers and students in schools. The programme also enhances the learning environment as well as teacher-student relationships. To date, approximately 2,666 students and 275 teachers in Cambodia have been trained and benefitted from the programme," he noted.
Sarun Bunalin, a volunteer who participated in the event, said, "I think the Safe School programme is really important as it helps raise awareness of natural hazards and teaches students to protect themselves from natural disasters. I would like to encourage more Prudential employees to volunteer in the Safe School programme."
Ka Chhorn, the Principal of Anglong Svay Kor Primary School, said, "180 students from our school have been taught about preparedness in the event of a storm since last year. I want to thank the students, student councils and teachers for their commitment and dedication to this programme."
The Safe Schools programme is also part of Prudential's efforts to support education and safety in the Kingdom. It complements Prudence Foundation's SAFE STEPS Natural Disaster programme, aimed to help save lives and ensure schools and communities are more resilient when disasters strike.
About Prudence Foundation
Prudence Foundation is the community investment arm of Prudential in Asia. Its mission is to secure the future of communities by enhancing education, health and safety. The Foundation runs regional programmes as well as local programmes in partnership with NGOs, governments and the private sector in order to maximise the impact of its efforts. Prudence Foundation leverages Prudential's long-term mindset and geographical scale to make communities safer, more secure and more resilient. The Foundation is a Hong Kong registered charitable entity.
For more information please visit: www.prudencefoundation.com