PHNOM PENH (01 Feb 2021) - Prudential Cambodia Life Insurance (Prudential Cambodia) and PPCBank today announced they have established a bancassurance partnership to serve the financial and protection needs of Cambodians. The partnership, which has been approved by both the National Bank of Cambodia and Ministry of Economic and Finance, will expand the access of life insurance for more Cambodians and help them protect and secure their financial future. Under the partnership, Prudential Cambodia's best-in-class life insurance products will be accessible to the Cambodians through PPCBank's extensive network and branches.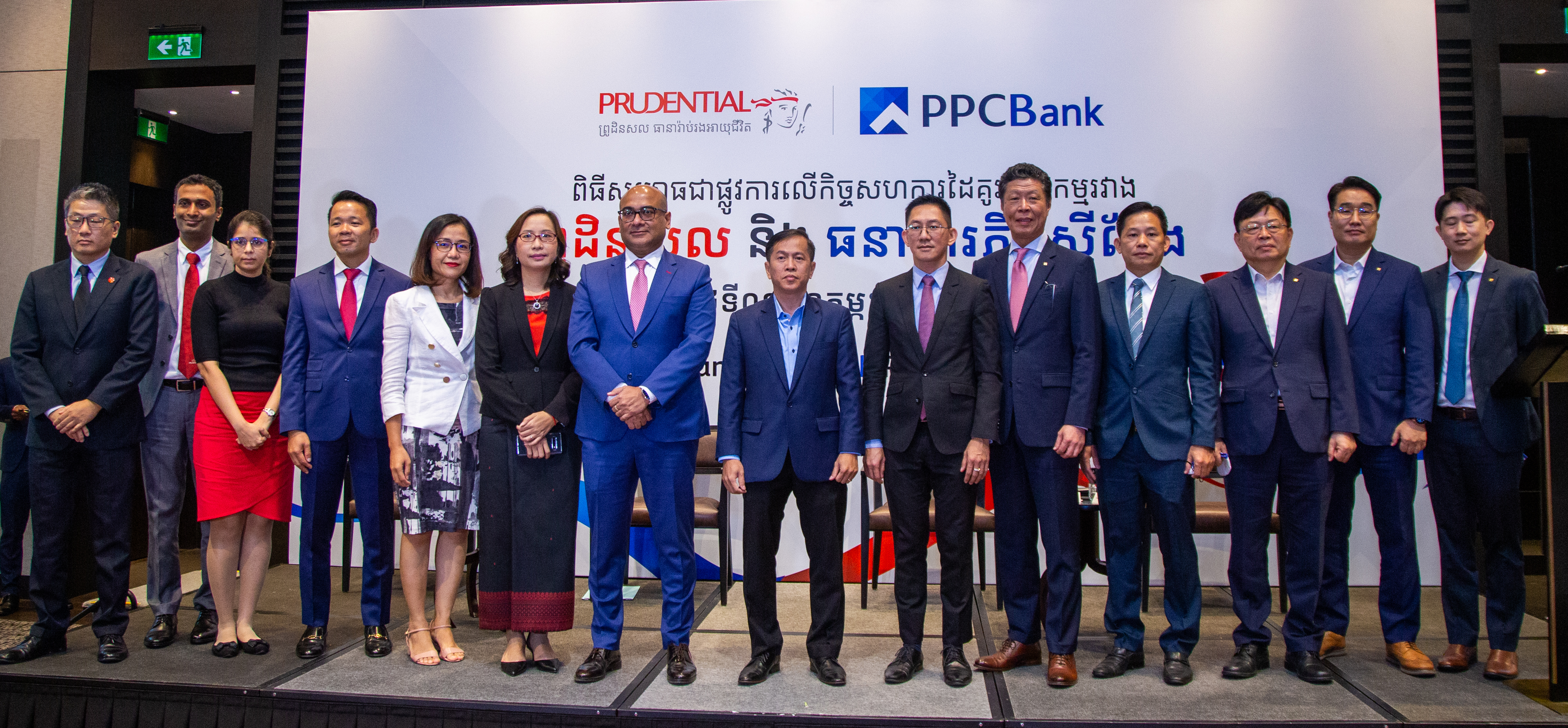 The event was presided over by Mr. Bou Chanphirou, Deputy Director General, General Department of Financial Industry, Ministry of Economy and Finance and Heng Bomakara, Deputy Director General of Banking Supervision, National Bank of Cambodia.
Mr. Bou ChanPhirou said "The partnership between banks and the insurance providers is mutually beneficial and important for Cambodia. It helps insurers increase their sales, and banks are able to assist their customers better protect their finances including loans."
Mr. Heng Bomakara, Deputy Director of Banking Supervision, National Bank of Cambodia, said "Today's partnership is an important testament to the steady growth of Cambodia's financial sector and a reflection of good cooperation between banking and non-banking operators. PPCBank and Prudential collaboration enables contribution to the development of the financial sectors in the country."
"At Prudential Cambodia, our purpose is to help people get the most out of their lives. Since establishing our business in the country in 2013, Prudential Cambodia has approved US$11.1 million (as at 30 Nov 2020) in claims and served over 250,000 policy holders. These payments have helped Cambodian families face adversity with dignity and get back on their feet. On the back of the ongoing COVID-19 pandemic and low penetration rate of life insurance in Cambodia, our purpose is more timely and important now than any other time in our history in Cambodia," said Mr. Sanjay Chakrabarty, Chief Executive Officer of Prudential Cambodia.
"As custodians of the financial wellbeing of customers, banks are uniquely positioned to advise their customers on their protection and financial needs. We are pleased to partner with PPCBank and we look forward to helping protect the health and wealth of their customers," Mr. Sanjay Chakrabarty added.
"PPCBank always believes in collaboration. We trust that partnering with the right institutions will allow us to provide more sophisticated products and better services to our customers. Starting from today through our partnership with Prudential Cambodia, we will support our customers by meeting their protection and savings needs and help them achieve their long-term financial goals," said Mr. Shin Chang Moo, President of PPCBank.
Partnerships such as the one between Prudential Cambodia and PPCBank underscore the vibrancy and resilience of the Cambodian economy with strong growth prospects as well as its attraction as a destination for long-term investment.
ABOUT PPCBANK
Locally incorporated in September 2008, PPCBank is South-Korean owned, a subsidiary of the JB Financial Group and Apro Financial Co. PPCBank operates across Cambodia through 16 branches in Phnom Penh and seven in major provinces, in addition to its 65 ATMs. PPCBank provides a full suite of products and services, ranging from deposits and loans, to modern digital mobile applications, its internet-based corporate service 'SmartBiz' and its 'Mobile Teller' for in-branch and remote consultations. In 2020 PPCBank listed corporate bonds on the Cambodia Securities Exchange.
PPCBank actively supports various CSR initiatives, being the first bank to empower those with hearing disabilities through its partnership with 'Socials Coffee' which can be found inside every PPCBank branch. Other initiatives include support of the landmine clearing NGO, APOPO and its "HeroRATs", which are working to make Cambodia free of landmines.
ABOUT PRUDENTIAL CAMBODIA
Prudential (Cambodia) Life Assurance PLC (Prudential Cambodia) began operations in January 2013. By providing tailored life insurance solutions to individuals and families and conducting insurance seminars for the public, Prudential Cambodia helps Cambodians protect and secure their financial futures. Prudential Cambodia is a wholly owned subsidiary of UK-based Prudential plc*. Prudential is a leading life insurer with operations in 13 markets in Asia, covering Cambodia, China, Hong Kong, India, Indonesia, Laos, Malaysia, Myanmar, the Philippines, Singapore, Taiwan, Thailand and Vietnam. Prudential has a robust multi-channel distribution platform providing a comprehensive range of protection, savings, and investment products to meet the diverse needs of Asian families.
Prudential plc is an Asia-led portfolio of businesses focused on structural growth markets. The business helps people get the most out of life through life and health insurance, and retirement and asset management solutions. Prudential plc has 20 million customers and is listed on stock exchanges in London, Hong Kong, Singapore and New York. Prudential plc is not affiliated in any manner with Prudential Financial, Inc. a company whose principal place of business is in the United States of America, nor with The Prudential Assurance Company Limited, a subsidiary of M&G plc, a company incorporated in the United Kingdom.