PHNOM PENH (MAY 20) - Prudential Cambodia has donated 18,000 units of high quality personal protective equipment (PPE) to the Ministry of Health to help protect healthcare workers in all the Ministry's COVID-19 response centers in Phnom Penh and other referral hospitals across the Kingdom.
A donation ceremony was held on May 20 and presided by H.E. Dr Or Vandine, Secretary of State, Ministry of Health, and Mr. Sanjay Chakrabarty, CEO of Prudential Cambodia.
"We want to thank Prudential Cambodia for their support. The donation is timely as we are about to distribute our resources to the provincial frontline medical staff and doctors." said H.E. Dr Or Vandine at the ceremony.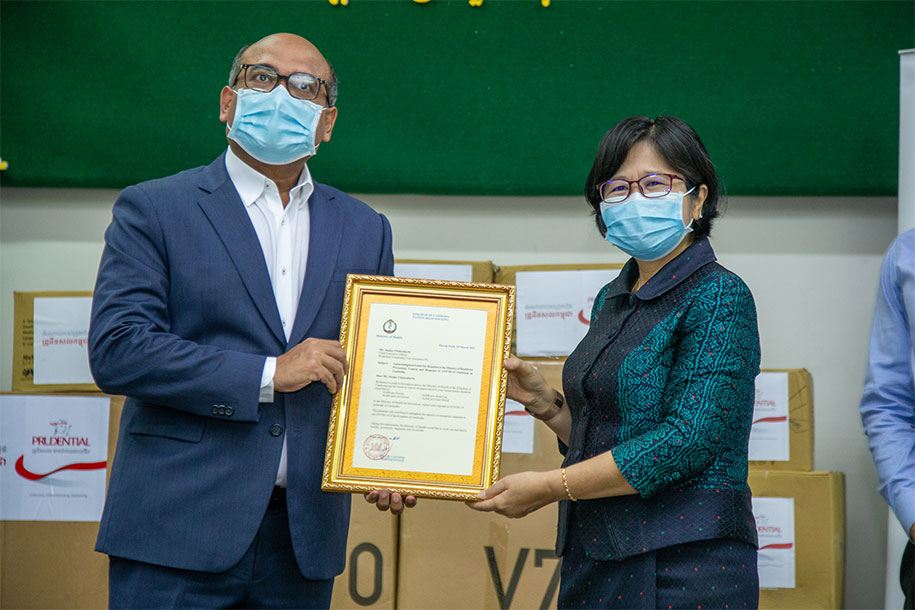 "At Prudential Cambodia, our purpose is to help people get the most out of life by protecting their health. In line with this purpose, we are helping protect the frontline healthcare workers with high-quality protective supplies, in the latest of a series of initiatives we have rolled out this year to support our stakeholders. Examples of other steps we have taken include participating in the COVID-19 Insurance Consortium to help provide travelers to Cambodia with financial protection against unexpected medical expenses; putting COVID-19 relief measures in place to help our customers with financial difficulties; and enhancing and expanding our protection coverage for our customers and employees. We are greatly encouraged by Cambodia's response to the COVID-19 pandemic so far and we will continue to support the Ministry and civil society groups in their ongoing efforts to fight the disease," said Mr. Sanjay Chakrabarty.
The donation is part of the Prudential Covid-19 Relief Fund (the Fund), a Prudence Foundation Initiative, which provides funding support for Prudential's communities and the volunteering efforts of our people in Asia, the US and Africa. The Fund has been distributed among Prudential's markets around the world to support charitable and community projects tackling the immediate impact of the pandemic and its social and economic consequences. Prudential Cambodia will also be donating funds to the non-profit partners of Prudence Foundation, the community investment arm of Prudential in Asia and Africa, to support their work to mitigate the impact of the pandemic on the Kingdom's communities.
Since Prudential established operations in Cambodia in 2013, Prudence Foundation has launched several initiatives in the Kingdom aimed at enhancing education, health and safety. These include the Cha-Ching Money Smart Kids program, which teaches basic financial literacy in classrooms across Cambodia; SAFE STEPS, which provides vital information to the public on road safety and natural disaster preparedness; First Read, an early childhood education program with Save the Children; and many other programs relating to health, education and financial wellbeing. These initiatives are supported by Prudential Cambodia employees who volunteer their time and efforts to ensure they are delivered with maximum impact and effectiveness.
ABOUT PRUDENTIAL
Prudential (Cambodia) Life Assurance PLC (Prudential Cambodia) began operations in January 2013. By providing tailored life insurance solutions to individuals and families and conducting insurance seminars for the public, Prudential Cambodia helps Cambodians protect and secure their financial futures. Prudential Cambodia is a wholly owned subsidiary of UK-based Prudential plc*. Prudential is a leading life insurer with operations in 13 markets in Asia, covering Cambodia, China, Hong Kong, India, Indonesia, Laos, Malaysia, Myanmar, the Philippines, Singapore, Taiwan, Thailand and Vietnam. Prudential has a robust multi-channel distribution platform providing a comprehensive range of protection, savings, and investment products to meet the diverse needs of Asian families.
*Prudential plc is an Asia-led portfolio of businesses focused on structural growth markets. The business helps people get the most out of life through life and health insurance, and retirement and asset management solutions. Prudential plc has 17 million life customers in its Asia and Africa businesses and is listed on stock exchanges in London, Hong Kong, Singapore and New York. Prudential plc is not affiliated in any manner with Prudential Financial, Inc. a company whose principal place of business is in the United States of America, nor with The Prudential Assurance Company Limited, a subsidiary of M&G plc, a company incorporated in the United Kingdom.
About Prudence Foundation
Prudence Foundation is the community investment arm of Prudential in Asia and Africa. Its mission is to secure the future of communities by enhancing education, health and safety. The Foundation runs regional programmers as well as local programmers in partnership with NGOs, governments and the private sector in order to maximize the impact of its efforts. Prudence Foundation leverages Prudential's long-term mindset and geographical scale to make communities safer, more secure and more resilient. The Foundation is a Hong Kong registered charitable entity.
For more information please visit: www.prudencefoundation.com