Insurance in your pocket – PRUMySafety is a simple, affordable and convenient way to stay protected available now on Pulse by Prudential.
Phnom Penh, Cambodia, 26 September 2021 – Road traffic accidents are one of the leading causes of deaths and injury in the Kingdom averaging 13,700 injuries and 5.4 deaths daily[1]. Additionally, out of pocket expenses[2] on healthcare in 2020 were $0.8B indicating that in the event of hospitalisation and medical treatment, many have to pay for these expenses on their own.
To help Cambodians financially plan for unexpected accidents, Prudential Cambodia, the largest life insurer in the Kingdom has launched PRUMySafety, a first of its kind innovative digital personal accident life insurance.
The product provides benefits for the following events caused by a road accident:
Bone fracture

Loss of one limb

Benefit for each day of hospital stay due to a road accident

Benefit in case of death or total and permanent disability due to a road accident
Customers can purchase PRUMySafety on the Pulse by Prudential (Pulse) App starting at only $7.25 per year. Customers can additionally choose from 4 packages that suit their needs. The product is very convenient to purchase as the whole journey is completed in a few clicks on Pulse. The policy is issued immediately, and customers can manage their policy, update their details and even make a claim 24/7 through the App from the comfort of their home.
"Our mission is to provide trusted healthcare and financial protection to ALL Cambodians. We have ensured that this product is simple to understand, easy to purchase, convenient to manage and claim, available 24/7 and secure. We are excited to be able to provide this first of its kind offering." said Mr. Sanjay Chakrabarty, Chief Executive Officer of Prudential Cambodia.
Pulse is a digital health app and the first of its kind in the region to offer holistic health management to consumers. It is available to download for free on both Android and iOS. Pulse was launched in Cambodia in Oct 2020 and has over 1M downloads.
For more details on PRUMySafety, please visit https://www.prudential.com.kh/
Simple Affordable Packages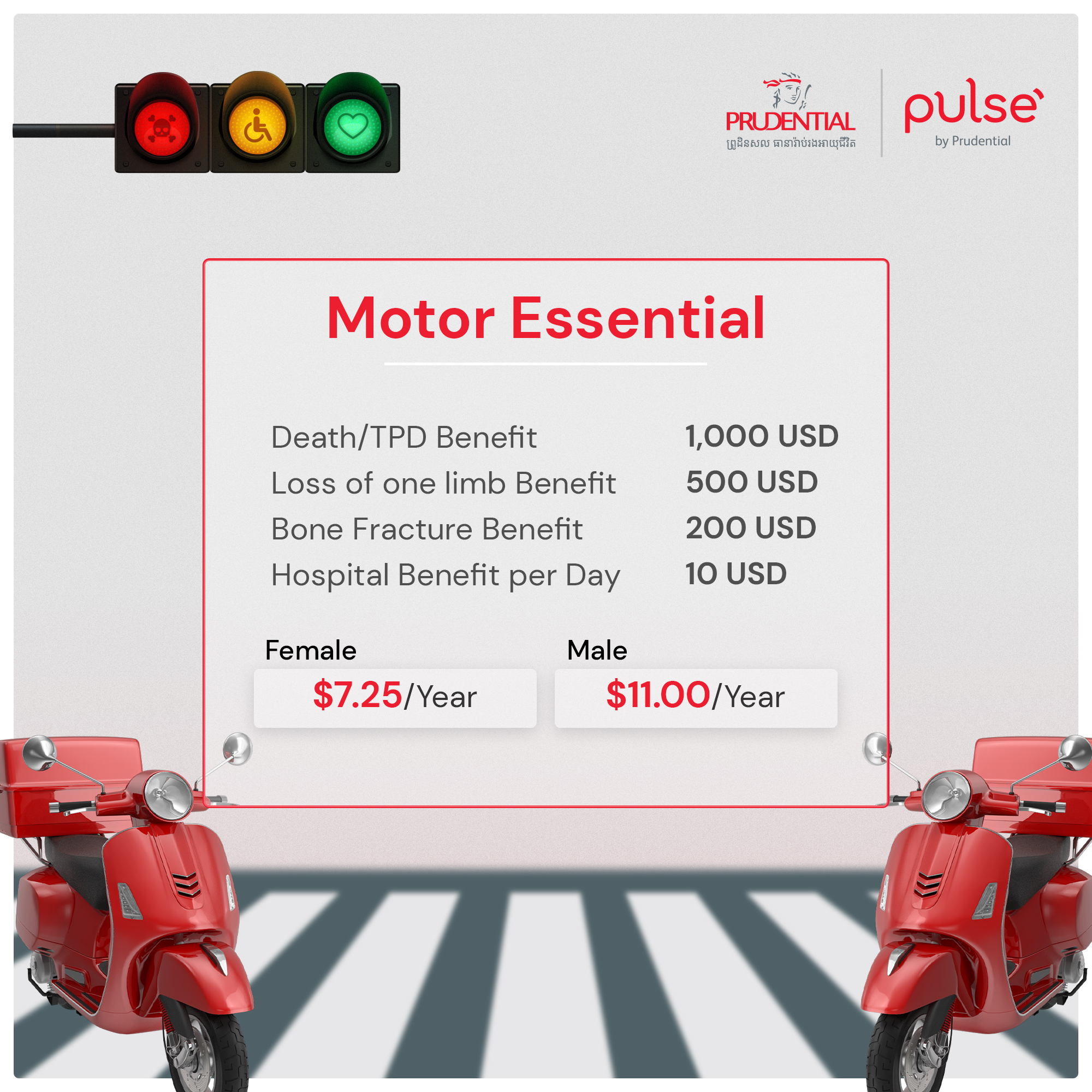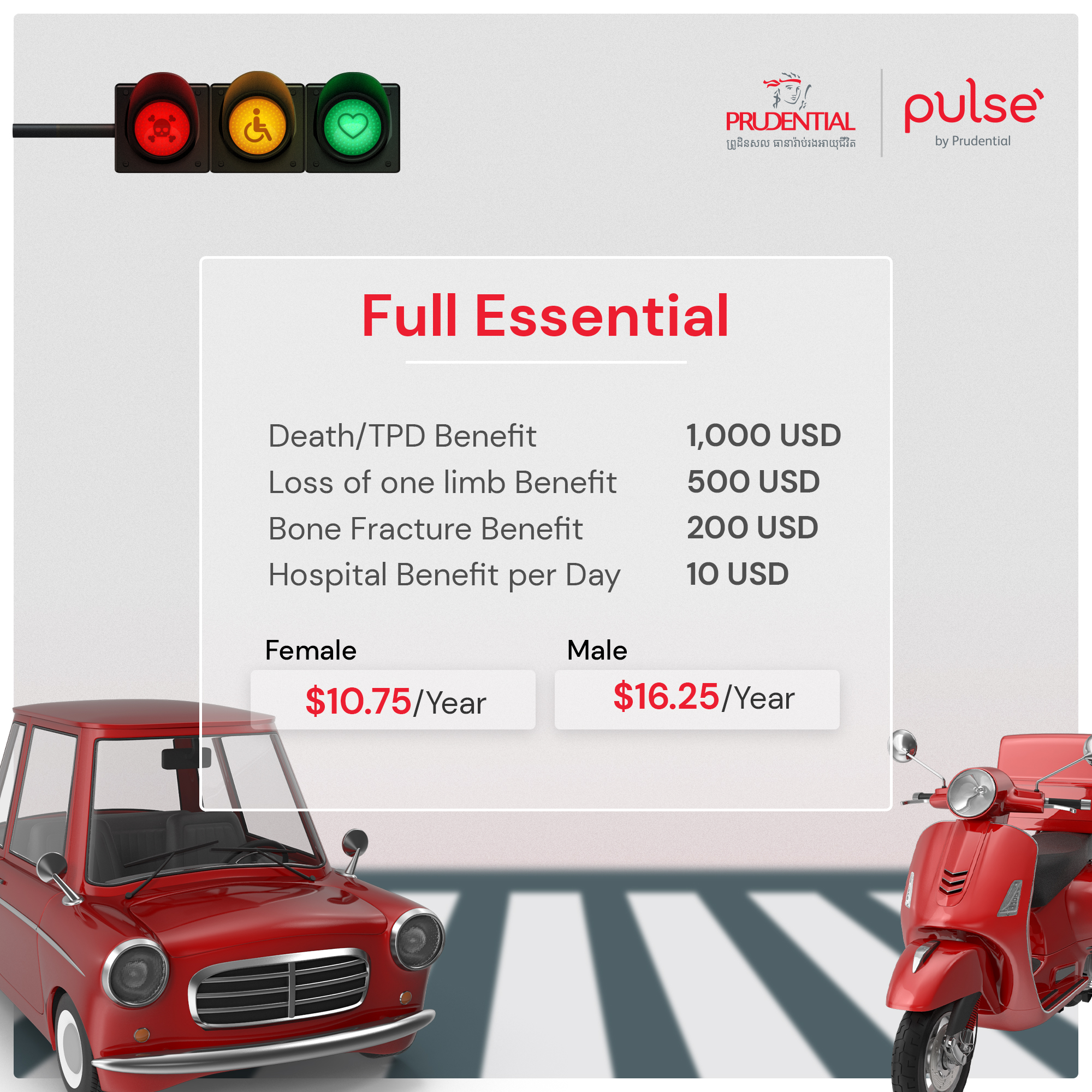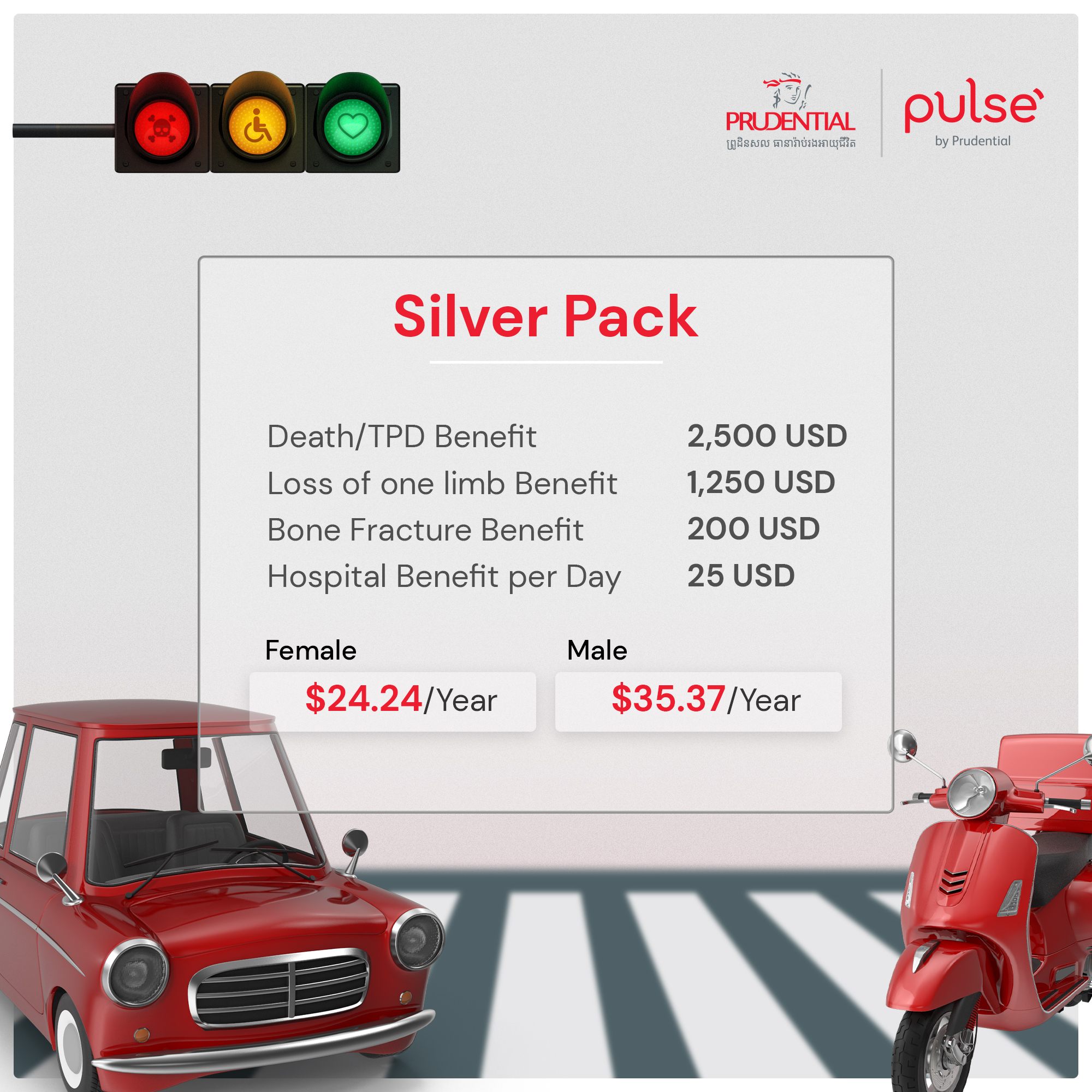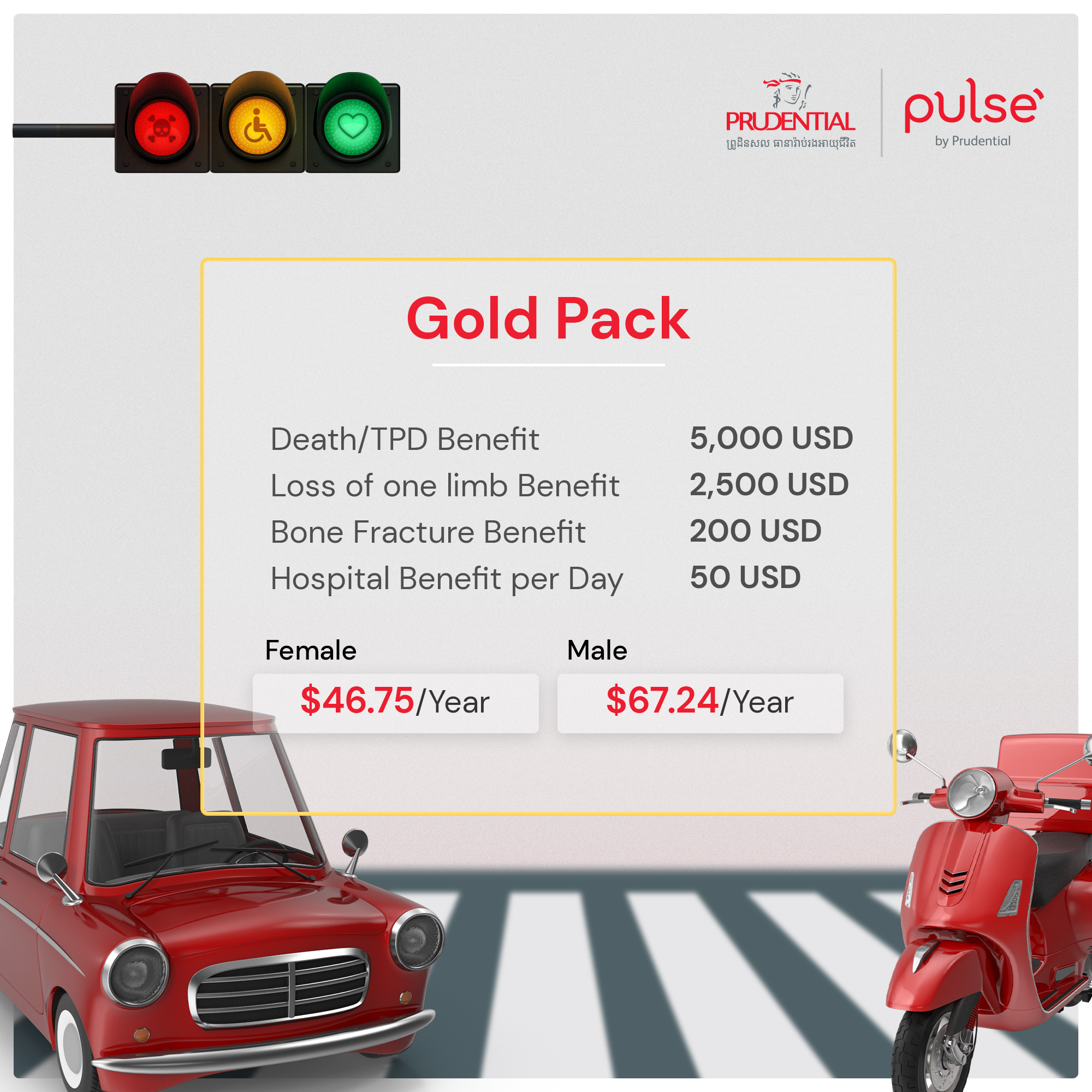 About Prudential Cambodia Life Assurance
Prudential (Cambodia) Life Assurance PLC (Prudential Cambodia) began operations in January 2013. By providing tailored life insurance solutions to individuals and families and conducting insurance seminars for the public, Prudential Cambodia helps Cambodians protect and secure their financial futures. Prudential Cambodia is a wholly owned subsidiary of Prudential plc*.
Prudential plc provides life and health insurance and asset management, with a focus on Asia and Africa. The business helps people get the most out of life, by making healthcare affordable and accessible and by promoting financial inclusion. Prudential protects people's wealth, helps them grow their assets, and empowers them to save for their goals. The business has more than 17 million life customers in Asia and Africa and is listed on stock exchanges in London, Hong Kong, Singapore and New York.
Prudential plc is not affiliated in any manner with Prudential Financial, Inc., a company whose principal place of business is in the United States of America or with The Prudential Assurance Company Limited, a subsidiary of M&G plc, a company incorporated in the United Kingdom.
About Pulse by Prudential
Pulse by Prudential (Pulse) is an all-in-one digital health app and the first of its kind in Asia and Africa to offer holistic health management to consumers. Using AI-powered self-help tools and real-time information, the app serves as a 24/7 health and wellness partner to users, helping them prevent, postpone, and protect against the onset of diseases. Pulse is part of Prudential's region-wide strategy to provide affordable and accessible healthcare to everyone across Asia and Africa by leveraging digital technologies and best-in-class partnerships.
Following the regional launch of Pulse in Malaysia in August 2019, Pulse is now available in a total of 11 markets in Asia and six in Africa, and includes a growing suite of value-add services, such as a symptom checker and health assessment, personal wellness services, and video consultations with certified doctors and specialists.
Since its launch, Pulse has been downloaded more than 30 million times* in Asia and Africa. Pulse is currently available on the Apple/Google Play stores in Cambodia, Hong Kong, Indonesia, Laos, Malaysia, Myanmar, the Philippines, Singapore, Taiwan, Thailand, Vietnam in Asia, and Cameroon, Ghana, Kenya, Nigeria, Uganda and Zambia in Africa.
For more information, log onto www.wedopulse.com.
*as at Aug 2021
[1] https://www.kh.undp.org/content/cambodia/en/home/presscenter/pressreleases/2021/traffic-is-the-leading-cause-of-deaths-and-injuries-in-cambodia-.html
[2] https://data.worldbank.org/indicator/SH.XPD.CHEX.GD.ZS?locations=KH – Healthcare expenditure is 6% of $25.3B or $1.5B. 57% of these are out of pockets expenses or 0.8B